No one really talks about nuts and bolts. Well it's such an important topic I thought I would go ahead and address this issue with a thread. It's about time too. So get yourself some threadlock and get ready. What caused me to finally break down and start talking about nuts and bolts? I lost a bolt which holds one of my heim joints on the shift linkage on Sunday. So leaning into a turn at about 90 I went for a downshift and nothing was there! No shifter lever even... all because a stupid bolt had backed itself out finally. Well the guys behind me had some spares and I could have robbed one from the rear brake which literally is of no use on my bike.
So I visited a friend of mine who has tons of Titanium all over the place in his garage. He instantly pointed out a couple improvements I could make to my shifter and dug up a proper bolt from his parts bin. He had so much Ti laying around my jaw dropped. I guess working on the worlds top race bikes for years affords you some spare Ti hardware! Check out my new fender hardware and also one of the new bolts for my Sato shifter linkage:
Sato Rearsets Installed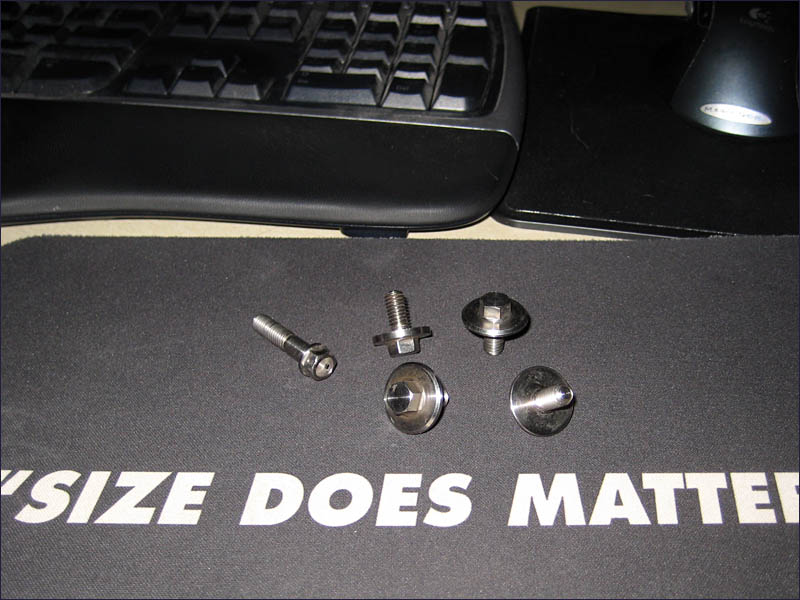 Notice the proper amount of shoulder so that the heim will be contacting a solid bolt shoulder instead of the threads. Also the bolt is long enough to put a locknut on the other side to hold it in place instead of relying on locktite. This is quite a difference from what came packaged with the Sato set. Here is the info I have on my Sato's and some nice pictures:
More to come...