How cool is this? It comes in black with rid lights of course... but the best part is that K.I.T.T. actually talks to you! The MIO brand Night Rider GPS is officially licensed so it's the real deal. MIO has been making GPS systems for a long time so I'm sure they have their shit in gear. It should be a nice GPS with software and all that stuff.
http://www.knightridergps.com/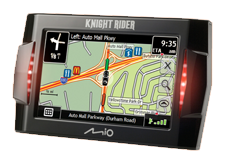 Looks pretty legit to me.