So I ordered one of these last week from CompUSA. I had found the deal on
Techbargains
a couple weeks back and started researching the unit as I have not heard of JVC making one previously. So by the time I decided that it is a good GPS I was too late, they were sold out within minutes. I was pretty bummed because I haven't seen a GPS that can play MP3's for anywhere near that price ($225). When the deal came up again last week I just hit order immediately and I'm very glad I did.
Shot of what I'm talking about: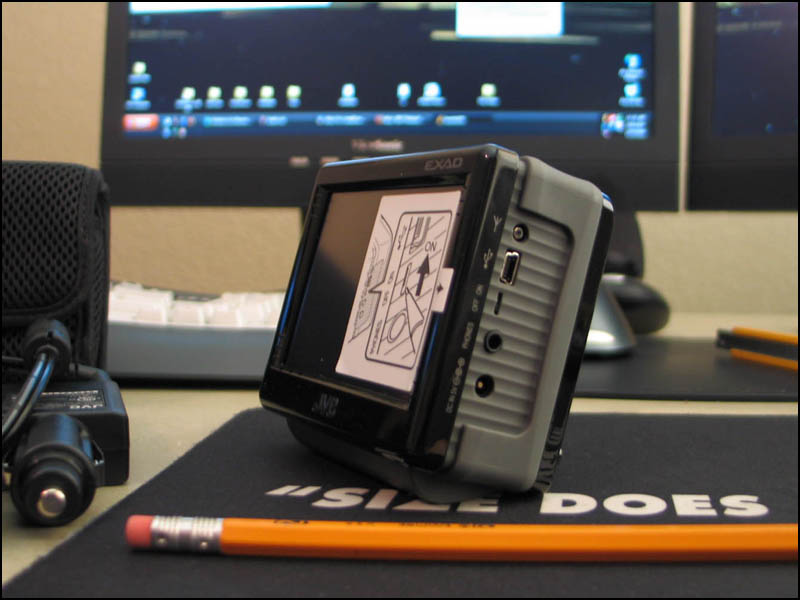 I have used a couple GPS systems before and I even used Microsofts Streets & Trips to go across the country and back. I loved the features and the ability to save your trips to files to look at later on. Laptop GPS is really the way to go when traveling to lots of points that you would want to record or really get details about them. If you just want to type in a few points easily and just drive there then a self contained convenient GPS is the way to go. There is just a power wire to deal with and it mounts anywhere out of your way. The laptop takes up a big area and its combersom to hold and to try and type things in when you are driving. In fact it's almost impossible to enter in points or do things when you are driving because you have to use the trackpad or pointer to select features. This is way too hard when you are driving. The self contained GPS is easily mounted on the dash of stuck to the window and you press the keys on the touchscreen, nice and easy!
So I eventually want a Lowrance Baja 480c GPS reciever because it is very accurate and it can save and load routes and points that are saved to memory. For off-roading it's a must because you can track exactly where you go, mark the trail and enter in info that can be used later. You can also enter in coordinates easier, load saved trips from racers and people who have marked race courses such as the Barstow To Vegas, Baja 500 etc... The Lowrance Baja 480c is coated in silicone so it's extra tough. The screen is the best in all conditions and it's dust proof. But for now I just want a GPS that is convenient and will get me right to where I want to go. I just want to throw it in my truck, enter in my points and head off to go snowboarding. Laptops are a pain and the Lowrance I'll have to actually wire in my truck and install in my dash later on.
This JVC is so easy to use and can be taken out and used in another vehicle within seconds. Besides the DC lighter cord it can run off of the built in battery for quite a long time. So this means you can actually walk around with it just fine. It comes with a suction cup base that you stick to glass and can also stick on a disk that can be stuck to anything that the sticky underneath will hold it to. It's a hell of a deal and works absolutely perfectly.
When it came to reading reviews I found that most of the people weren't proficient in using GPS and obviously were frustrated by the need for any GPS receiver to be next to a window. My GPS gets signal very quickly and even works in my house so I don't know why these n00bs were complaining so much. There is also an optional antenna that is at the end of a wire that plugs into the side of the unit. This allows the GPS to be anywhere as long as the antenna box is placed on the glass. This is normal stuff to GPS users so I'm here to throw out my experiences to give an in depth review for people who are considering this GPS. I could hardly find any info and even then you have to determine if the person knows what they are talking about in the first place. There are many more people who whine about something like this than people who know how to use a GPS and write something positive. I have a lot of pictures also. I was pretty annoyed by the lack of JVC eAvinu pictures on the net.