So my last little surprise I found among the wreckage I call my APrilia!
I did a nice lowside a couple weekends ago and once I removed my pipe I noticed this little ding hiding behind it.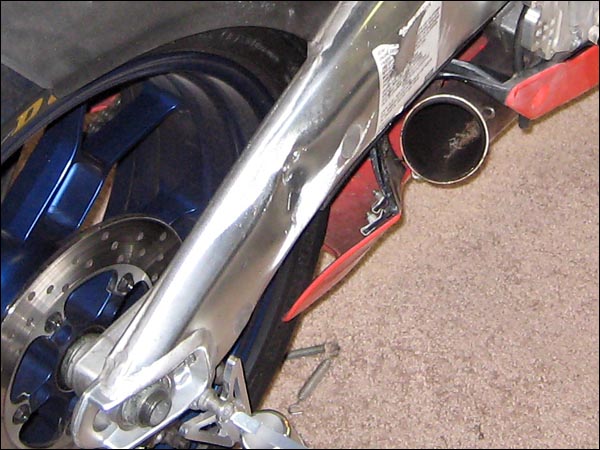 Looking down the swingarm leg from the rear it shows not a bit of alignment problem. I'm riding the damn thing. I see no chance of any problems because of it. The thickness of the aluminum must be REALLY thin because the Ti exhaust can showed NO damage to the inside that was facing the swinger. I had to go back and closely inspect it and one of the rivets just barely shows a scratch. Those swingarms are super thinwall material. There are swingarms for sale all the time and price isn't the problem. Replacing it is a pain in the ass though!!
I didn't even see the dent for a while after my little slide off the road. I was pretty bummed when I removed the pipe! It's all good though. I'm not stressing it. I can get another one anytime I want but I'm just going to ride the damn thing!! It ain't some collector motorcycle or anything.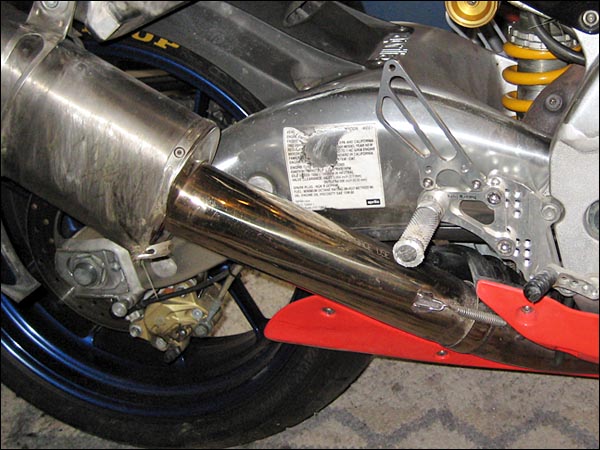 This is a great excuse for a single sided conversion but I just got those OZ rims!! So I'm kinda screwed cause I can't use the rear Futura rim and a front OZ. That would be nasty.
I am thinking of building my second Aprilia Mille Chassis to fit my 3 cylinder Kawasaki 500 engine in sometime this summer though... If I could put a single sided swingarm on that one and the stock RSV front Brembo rim on the front that would be cherry... Ok back to reality. Dent or no dent I'm riding this damn thing soon. The nice weather is killing me without my Aprilia to ride.